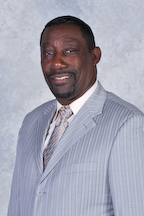 Larry D. Dugger was born in Memphis, TN. In 1950 he is the eldest of four children.
He graduated from Geeter High School in 1968 and joined the Marine Corps at the age of 17.
After serving  in Viet Nam, he was transformed to Camp LeJeune, North Carolina, where in 1971 he meet and married  Annie (Darletha) Booker.  From that union has come three daughters.  They have been together for 42 yrs.
He attended Coastal Carolina Community College in Jacksonville, North Carolina and University of San Diego (Camp Lejeune Chapter)  where he was awarded a degree as a Drug and Alcohol Abuse Counselor.  He has also taught Marine Corps Personal Finance for Career Marines, Suze Orman and David  Ramsey money management courses. Over 40 years of teaching  how  to manage "Your Money" and retire early.
He has served 22 years in the Marine Corps, covering 27 duty stations and assignments, in  14 different countries. He retired in 1990 after serving  3½  years  as Facility Maintenance Chief at Camp H. M. Smith, Hawaii. Where he managed a $170,000,000.00 budget for the Pacific Command  Fleet Marine Force. Serving  14 Star Generals.  He also worked for Roto Rooter for 15 years retiring as the Senior Service Plumber for  the Puget Sound Region. He has owned five different and successful businesses.
Ordained as a Minister of the Gospel in December 1986, at Shiloh Apostolic Holiness Church located in Jacksonville, NC. under Bishop Robert L. Meredith.  Present member of Greater Christ Temper Church, Tacoma, WA. under Dist. Elder Prentis V. Johnson, where he serves in many capacities within the church.