Rev. Robert Watson Nomination Letter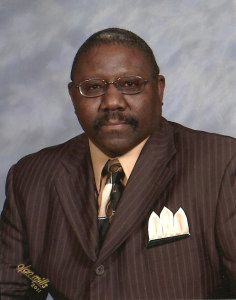 Rev Robert Lee Watson Jr. is the proud husband to Barbara S. Watson; and they have been married for Twenty One years, he is the father of Laura, Psalms, and Robert Lee Watson III. He is the grandfather of Azariah Watson, whose father is Robert Lee Watson III with another grandchild, on the way in December 2012. He served in the United States Army for twenty years and retired with an Honorable Discharge in 2004. He was licensed in 2005 to preach the Gospel by Bethlehem Baptist Church and ordained as an Associate Minister in Bethlehem Baptist Church in 2008 by Rev. Dr. Freeman S. Rhoades.
Education: Most Recent achievements – Master of Divinity, Master of Biblical Studies, and enrolled in the Doctorate of Ministry Program at Covenant Bible Seminary.
He has most recently trained to be a facilitator for living a Healthy Life with Chronic Conditions thru a Self-Management Study conducted by Stanford University; and as a facilitator for the Diabetes Self-Management workshop also developed at Stanford University.
He has had Advocacy Training for Real People conducted by Washington State Commission on African American Affairs at Evergreen College-Tacoma in 2010.
He has many associations listed below which he devotes some of his time.
Bethlehem Baptist Church, Blacks in Government (B.I.G.), African Americans Reach and Teach Health Ministry (AARTH), National Association for Black Veterans (NABVETS) and Center for Veterans Issues West (CVIW).
Rev. Robert L. Watson, Jr. has been an active member in NABVETS, Inc. since he was introduced to the organization in 2008. He was voted in as Vice-Commander Tacoma Chapter #0004 of NABVETS, INC.
2008 – 2010 Tacoma, WA under Commander Ken Watts where he helped facilitates meetings when Commander Watts was not in attendance. He obtained Veterans Service Officer Liaison (VSOL) status by undergoing rigorous online training. Assisted All Veterans in getting in touch with the NABVETS VSO in the area. Traveling throughout Washington State representing as well as introducing to many Veterans the NABVETS, Inc. Organization. He has managed the day-to-day operation, ensuring that business operations are efficient and the proper management of resources and distribution of goods and services to all customers and analysis of critical systems. He holds the office of President of the Washington State Command Council.
Upon Commander Ken Watts term ending in 2010, Rev Watson was voted into the position of Commander, Tacoma Chapter #0004 of NABVETS, INC. Rev. Watson took on the role of commander and has steadily moved the local chapter organization forward; as well as maintaining his role in helping promote the State and Regional Organization. He has implemented the use of the Internet web page. At the local chapter meetings, he is continually introducing different organizations to the members to keep them informed of who is in the community to give them assistance. These are tasks that good commanders do; they take charge, find ways to make things better to move the organization forward. As commander, he facilitates the meetings, assists with the budgeting, attends conferences; represent the NABVETS, Inc. Organization at community functions. However, the most important thing is who he is doing this for and that is All Veterans across all barriers. He introduces himself as the Commander of the NABVETS, Inc. organization, explains what NABVETS can do and then uses his VSOL status by directing them towards a Veterans Service Officer to assist them with their VA Claims. He travels throughout Washington State as well as manages the day-to-day operation, ensuring that business operations are efficient and the proper management of resources and distribution of goods and services to all customers and analysis of systems are conducted.
Rev. Watson has received a Certificate of Appreciation Award for his dedication, distinguished service and professionalism in executing the transportation plan during the time when NABVETS was honoring the Soldiers of Fort Lawton, Seattle, Washington of 1944. He received a Certificate of Appreciation for his exceptional dedicated service and positive attributes that have contributed to the mission of the organization. His leadership and management style enhanced the daily operations and his innovative ideas enabled the administrative staff have a better understanding of the organizational mission. He received the Region I Phoenix Award for his dedication and service to the Region I National Association of Black Veterans, Inc., by using his constant determination to improve the administrative procedures which resulted in the transition to new technology to communicate and command. His dedication and concern for our veterans characterizes the finest qualities of service.
Where does Rev. Robert L. Watson, Jr. see NABVETS moving in the future? Forward. We must take ourselves as an organization to the next level. It is my desire to serve our community and see that all our officers receive the critical time, resources and training they need at the local, state, regional and national level to complete the mission, and the task charged to us. We need to continually maintain contact with experienced professionals that will provide quality training sessions geared toward professional development in the areas of public administration, leadership, financial management, and health and community awareness. Veterans Retirement and disability, and PTSD training as well. With NABVETS in the community, we are another avenue that our fellow Veterans, young, old, male and female can come to for the information they need. We need to push forward in all aspects of the community, whether it is private, public, government or religious to help those who have continually served and protected today as well as in the past.
As you know all organizations must change the way they do business if they are to remain competitive and meet the demands of their constituents well into the 21st century. As organizations change, their requirement for recruitment of veterans and their family members at all levels change, we must change with them. In today's technologically advanced society, we must develop a comprehensive and diverse resume, by seeking more educational and training opportunities for the people we represent as well as ourselves. We must foster intellectual, economic, and more especially community connections across all, socio cultural connections, to help increase the professional and personal development skills of our returning veterans and physically challenged members as they go out and apply for job. We must understand as a whole the importance of having the required skills to help an organization such as the National Association for Black Veterans Washington State Command Council answer, to the daily and future challenges of accomplishing their mission, which is to assist veterans and their families. Let's face it at the end of the day we want all veterans and their families to leave us in better shape than when they came in.